Alicia Keys mkali wa ngoma kibao na mume wake ambae ni mtayarishaji wa mapigo ya muziki na repa wametanganza kwamba wantegemea mtoto wao wa pili, Hii story walitangaza kupitia instagram account ya Alicia Keys ikiwa na maneno yafuatayo:
"Happy Anniversary to the love of my life @therealswizzz !! And to make it even sweeter we've been blessed with another angel on the way!! You make me happier than I have ever known! Here's to many many more years of the best parts of life!"
Swizz Beatz nae akaandika kupitia instagram baada ya Alicia Keys kuandika, Swizz aliandika
"Love is life & life is love and we're so excited for another GIFT from up above Happy Anniversary my Goddess 4 years of greatness & cheers to 100 plus more inshallah "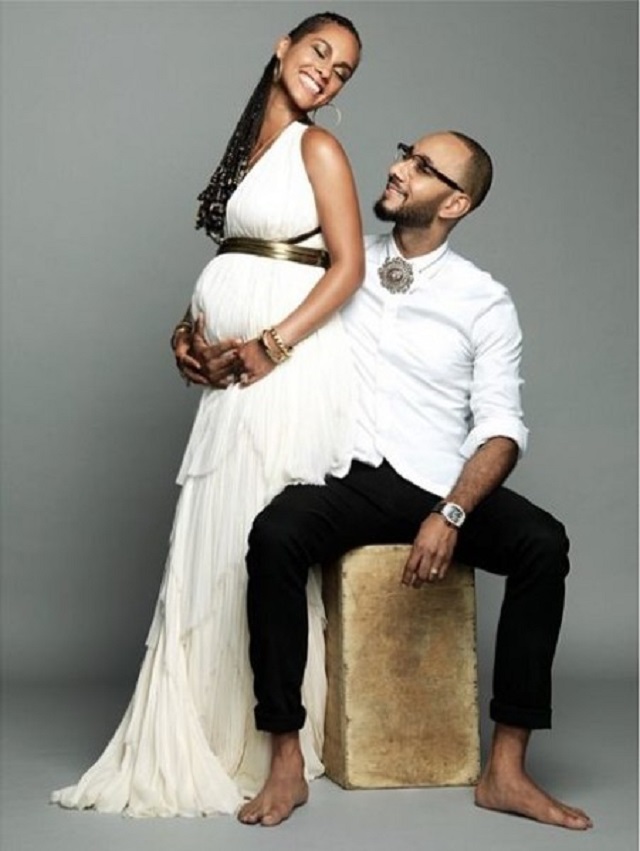 Alicia Keys na Swizz Beatz walipata mtoto wao wa kwanza Oktoba 2010.
Wakati Swizz Beatz na Alicia Keys wanafurahia maisha na kutegemea mtoto wao wa pili, ni tofauti kwa Ciara na Future, kuna uvumi katika mitandao kwamba Future amepata mwanamke mpya na kuna picha ameonekana Future akiwa na mwanada ambae ndo inasemekana ndo demu wake mpya, na baada ya Ciara kupata mtoto wajawahi kuonekana nae sehemu sehemu.
Na juzi katika ukurasa wa Ciara aliandika kitu amabcho kweli unaweza ukahisi ukajua maisha yake ya mapenzi si salama, nukuu kidogo tu aliandika "Kwenye maisha huwezi kuwalazimsiha watu kufanya kitu fulani ambacho hawataki kufanya au kitu ambacho wao sio, inatakiwa uwaache watu wawe jinsi walivyo".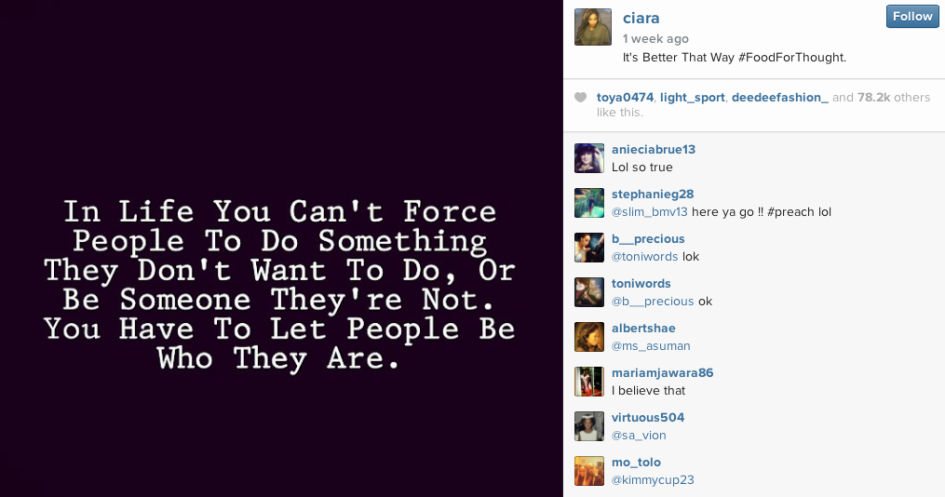 Wakati kwa Ciara kukiwaka moto na Jay Z na Beyonce nako kuna stories kwamba wiki hii Beyonce alionekana akitafuta nyumba ambayo anataka kwenda kuishi, alikuwa akitafuta nyumba hiyo bila hata ya kumshirikisha mume wake stories zimeeleza….
Tofauti kwa Jada Pinkett na Will Smith wao ndoa yao ina miaka 18 kwa sasa wakielekea kusherekea miaka 20 ya ndoa. Na Jada alisema kwamba siri ya mafanikio katika ndoa yake ni kuwa mwanajeshi katika ndoa.

Comments