Amber Rose hubby baba Seba anaseema Tyga mwenyewe hakumwambia kwamba hatakuwepo katika tour yake ya Under the influence of music, asema ilimuudhi sana lakini wapo poa hawana ugomvi. Kama unakumbuka kama wiki mbili tuliongea kwamba Tyga alijitoa kwenye tour lakini hatukujua sababu tukasema Wiz akitoa sababu tutakwambia, sasa sababu Wiz Khalifa ameitaja na kusema ni ya kijinga.
Tour hiyo imepangwa kuwa tour kubwa kipindi cha kiangazi, Wiz Khalifa akipiga stories na Power 99 huko Philadelphia alisema ameumizwa sana na repa huyo aliyeko lebo ya Young Money kujitoa katika tour hiyo.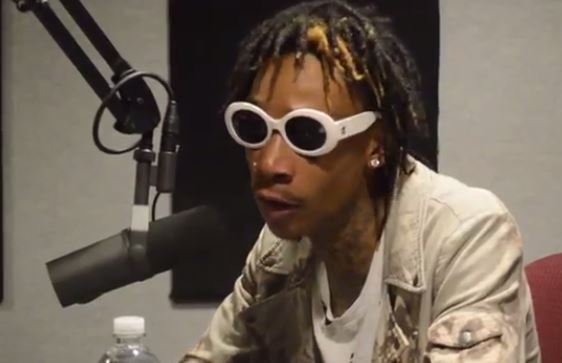 "Inaudhi sana, hakuniambia, watu wake walisema hawatakuwepo kwenye tour, na sababu waliyotoa haikutosha kwa Tyga kutokuwepo, anafanya filamu na kumalizia albamu yake, hiyo ni sababu ya kijinga, lakini tuko poa na nitaendelea kuongea nae, na uhakika atasikia mahojiano yangu nikisema kwamba nadhani ni sababu ya kijinga, mimi ni aina ya mtu ambae naongea na watu napotaka kufanya hivyo.
Anajua nilivyo, tuko poa, ni mshikaji na hiyo ilikuwa jambo la kijinga unajua, lakini tuko poa, nilihisi kwa nini hajanipigia mwenyewe, sisi na zaidi ya hivyo, mwisho wa siku unasema unafanya filamu inaonekana kama kuna kitu unataka kufanya. Nilifanya albamu yangu kabla ya tour na pia nafanya filamu nikirudi nyumbani tu, tour ikiwa imeisha na nina mtoto pia, mwisho wa siku ni nini unataka kufanya kwenye maisha yako" Alisema Wiz Khalifa akieleza sababu ya Tyga kujitoa kwenye tour.
Wiz aliulizwa juu ya mahusiano kati ya watu wanaoshiriki tour hiyo "Mahusiano ni mazuri, tumeanza usiku wa jana (Alhamisi), kila mtu alikuwepo eneo wanayotakiwa kuwepo, tukivuta,tukifurahi, ulikuwa usiku mzuri, wote tulikuwa tukiangalia show ya kila mmoja, itakuwa fresh, itakuwa raha kwa sababu kila mtu anahari, na wote tunaenjoy pamoja kabla" Aliongeza Wiz.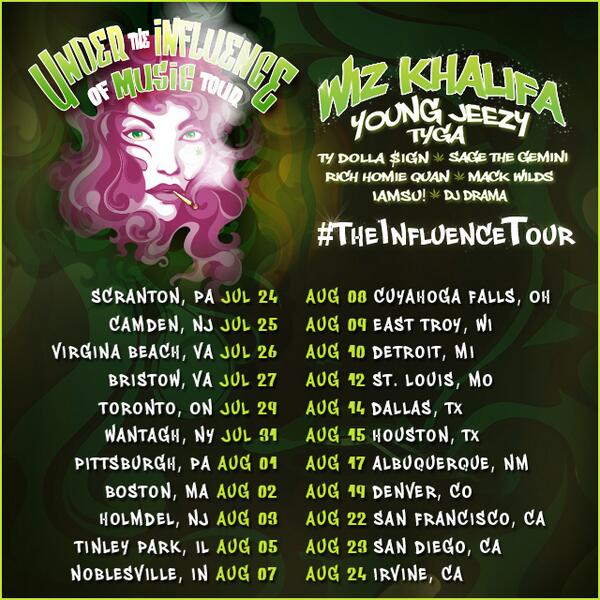 Tour ya Under The Influence of Music Tour ya Wiz Khalifa ilianza Julai 24 na itaendelea mpaka Agosti 24 mwaka huu, nje ya Wiz Khalifa yupo Young Jeezy, Ty Dolla Sign, Sage The Germini, Rich Homie Quan, Mack Wilds, Iamsu na Dj Drama wote wamepengwa kuperform kila mahali watakapokwenda.

Comments