Ingekuwa wewe ungeila? Mtengenezaji wa keki aliamua kuonyesha uwezo wake wa kutengeneza keki siku ya harusi yake kwa kutengeneza keki yenye mfano wake yeye na Bwana harusi.
Lara mwenye miaka 29, alitengeneza na keki ya Bwana harusi ambaye yeye ana umri wa miaka 27, wakiwa wamevaa nguo za harusi aliiambia Birmingham Mail.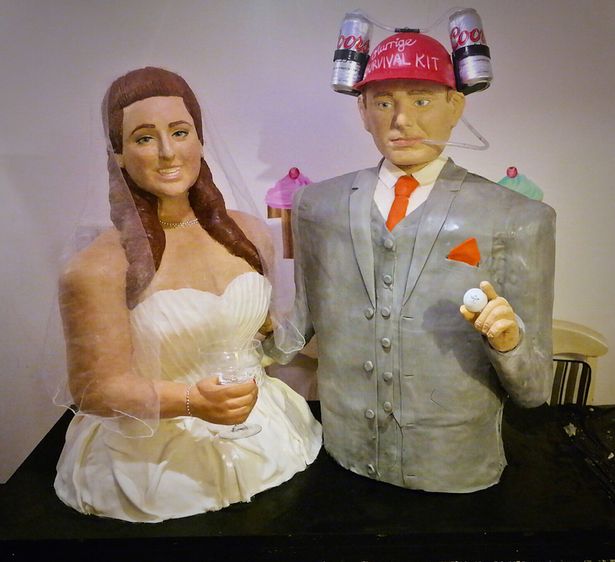 "Wote tunapenda kucheka na tulidhani itakuwa vizuri kutengeneza keki ambayo itawafanya wageni wetu wacheke, nimeitengeneza mwenyewe, bibi harusi mwenye furaha siku ya harusi na Nikki anakunywa bia kwa mrija kutoka kwenye marriage survivak kit.
Hatukuishia kula keki usiku huo watu wengi wakiwa bize kuipiga picha kekik hiyo, kwa hiyo niliiacha keki hiyo kwenye club kwa ajili ya kila mtu akate ale na afurahi.
Ilimchukua saa 20 ambapo huwa anatumia saa hadi 150 kutengeneza keki za ukubwa ule kwa hiyo alifanya haraka haraka sana.
Lara alipata umaarufu duniani mwaka 2013 pale keki yake ya Kapteni Jack Sparrow kutoka Pirates of the Caribbean ilipata alama ya adhabu katika shindano la keki.\Shindano la mwisho mwaka jana alitengeneza iced replica ya Jennifer Lawrence, ambapo star huyo wa Hunger Games aliisifia sana…Congrats Lara.

Comments